 Characters to play with, write with, fight with, be friends with

This is a diceless set of rules for solving problems and answering questions while roleplaying. It's inspired by the storytelling tropes of western animation, western film, and Japanese anime and manga. The different aspects of your character become a list of traits, training, and histories that justify accomplishing certain tasks or failing others.

Everything works by the rule of threes. If you want to accomplish a task, then your character will need to point to three things they have or know that apply. If they cannot, they take a Strike. Three strikes and they're out.

Characters To... works on similar grounds as FATE. There is no setting implied, or even a particular genre you need to follow. It instead provides a simple framework for telling collaborative stories inspired by the Free Kriegsspiel Revolution that is happening in the background of TTRPGS.

Characters To... is minimalistic but not freeform. It strips out the crunch and the majority of rules found in most TTRPGs to allow for a focus on characters, story, and immersion. You know what your character can do at all times, so if you are a sword fighter, you know you won't "roll a 1" and suddenly become incapable.

Characters To... has less rules to let you do more with it. Character creation is all about Stuff & Things (I literally couldn't think of a better phrase for it). These are broken into categories for organizations sake, but they are EVERYTHING that makes up your character. What they know, what they can do, who they know, how they were raised, where they were raised. All the bits and pieces of your character lend to their experience and make them more capable.

And Lastly, Characters To... is about playing worlds, not the rules. Any book you've read, movie you've watched, comic you've read, is now a setting you can pull from or steal from wholesale. By making lists of Stuff & Things for your characters to choose from when creating their characters, you can roleplay in any setting you want and play consistent to the rules and logic of that setting.
I wrote Characters To... to teach new players I had and it worked wonderfully. It's a great and easy way to get into roleplaying. Play like a kid again.

This PDF is 34 pages, full color, and you can pre-order the physical copy by clicking the picture below.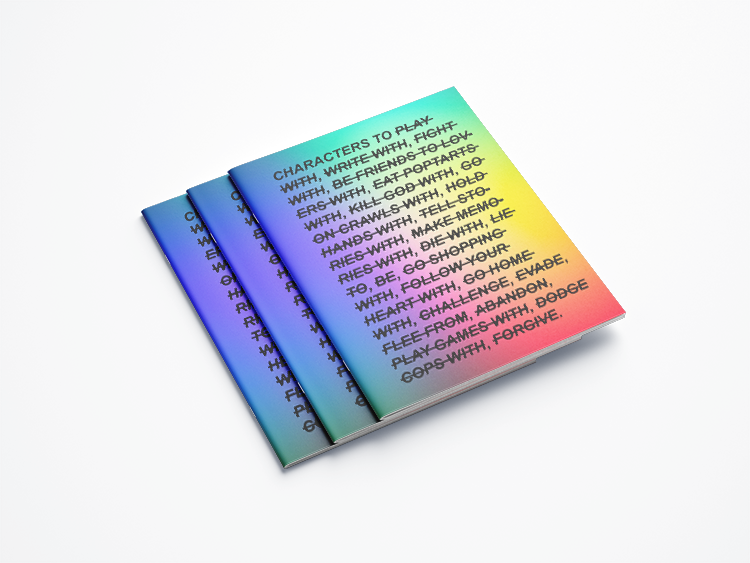 Purchase
In order to download this game you must purchase it at or above the minimum price of $2.50 USD. You will get access to the following files:
Community Copies
Support this game at or above a special price point to receive something exclusive.
Community Copies
I give copies to my community.